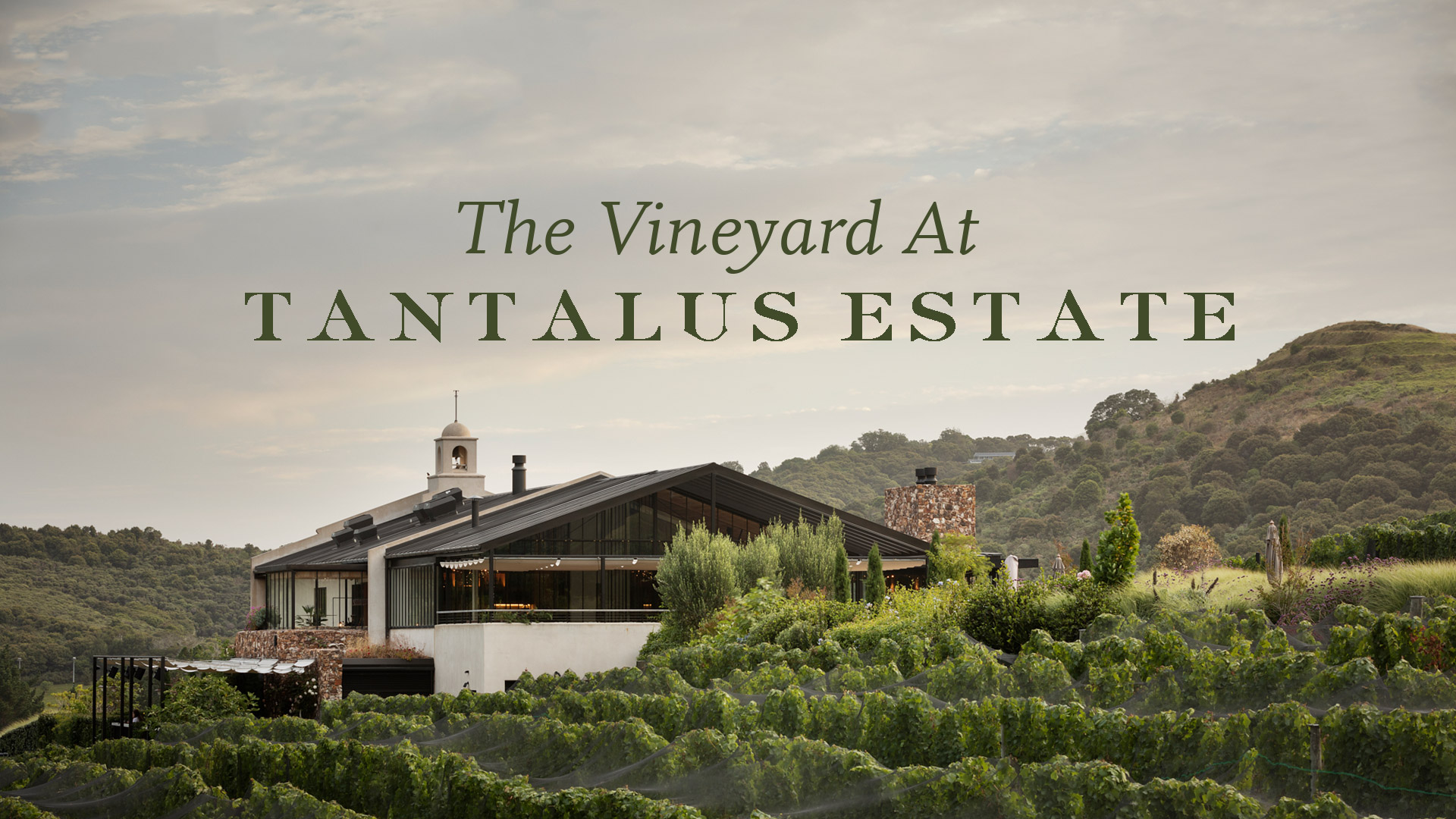 Located on Waiheke Island in Auckland's Hauraki Gulf, our vineyard is situated on 20 acres within the premium wine growing region of the Onetangi Valley.
With a temperate maritime climate, Waiheke Island enjoys warmer days and less rainfall than nearby Auckland. These are ideal conditions for grapes that require a longer growing season. Our valley has a north-south orientation that allows abundant access to sunshine enabling the grapes to reach their full potential. We focus on producing small batch Bordeaux and Rhône style wines of the highest quality in limited quantities. 
The oldest vines date back to 1998 and include 3.7ha of Cabernet Sauvignon, Cabernet Franc and Merlot. In 2002, the previous owners planted 1.8ha of Syrah, Merlot, Malbec, Chardonnay, and Pinot Gris.  When the Estate was purchased in 2013 our team identified underperforming areas in the vineyard and replanted 0.9ha in new, high quality Cabernet and Syrah clones. Within the Estate Restaurant one of the most remarked upon features is the sparkling chandeliers that were crafted from the old Sauvignon Blanc vines and repurposed to provide elegant lighting.
The Vineyard comprises a selection of varieties and clones to spread the risk from bad weather events while increasing wine complexity due to slight changes in aspect and soil type. This approach ensures high quality clones on low-cropping rootstocks yield on average only 32 hectolitres (3200 litres) per hectare, enabling production of densely concentrated, complex wines.
It's a truism that great wines are made in the vineyard. 
Viticulturist, Chris Ward and Winemaker, Alex Perez, work together throughout the year with the ultimate aim of producing the highest quality grapes destined for Tantalus Estate premium wines.  
The two determine the hand-selection of the best grape clusters row by row. Within 15 minutes of being hand harvested, the grapes are transported in small 10kg bins to the onsite winery, this is to avoid any potential damage to the clusters during their short transit. On arrival at the winery they are weighed and sorted once more, by hand.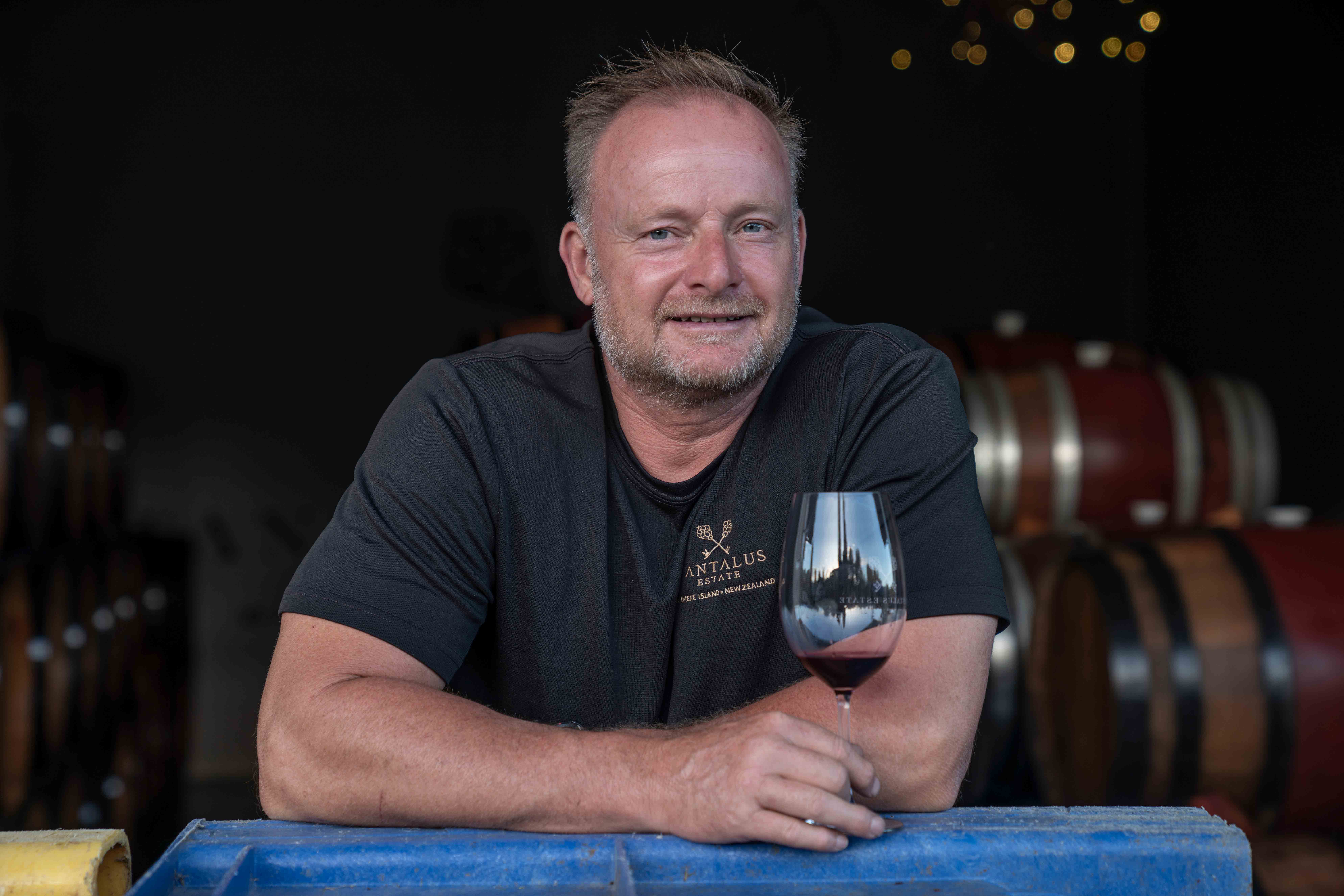 CHRIS WARD – VITICULTURIST
Chris Ward joined the Tantalus Estate team in 2013, after 10 years as Viticulturist at neighbouring winery, Stonyridge. His experience and knowledge of the Onetangi Valley was crucial to the redevelopment of the vineyard. 
Chris is responsible for all vineyard and Estate management, working seamlessly with Alex to create our distinctive Tantalus Estate wine style. A passionate advocate of biodiversity and sustainability, Chris played a key role in accreditation for the vineyard and winery under the New Zealand Sustainable Winegrowing Programme (SWNZ). 
Chris holds a degree in international business and a post-graduate diploma in wine science.
From the beginning, owners Carrie and Campbell have led the development of the Estate with sustainable practices at the heart of all projects.  The goal is to reduce our impact on the environment and to enhance biodiversity.  
The gravity fed and solar powered winery supports less energy consumption, and the approach to vineyard management also includes restoration and protection of the natural environment.
Across the Estate we have planted 3,000 square metres of wildflowers to increase biodiversity and the size of beneficial insect populations, such as parasitic wasps and ladybirds. They help control pests such as mealybugs and negate the use of pesticides. Without pesticides beneficial insects thrive, helping to eliminate pest species.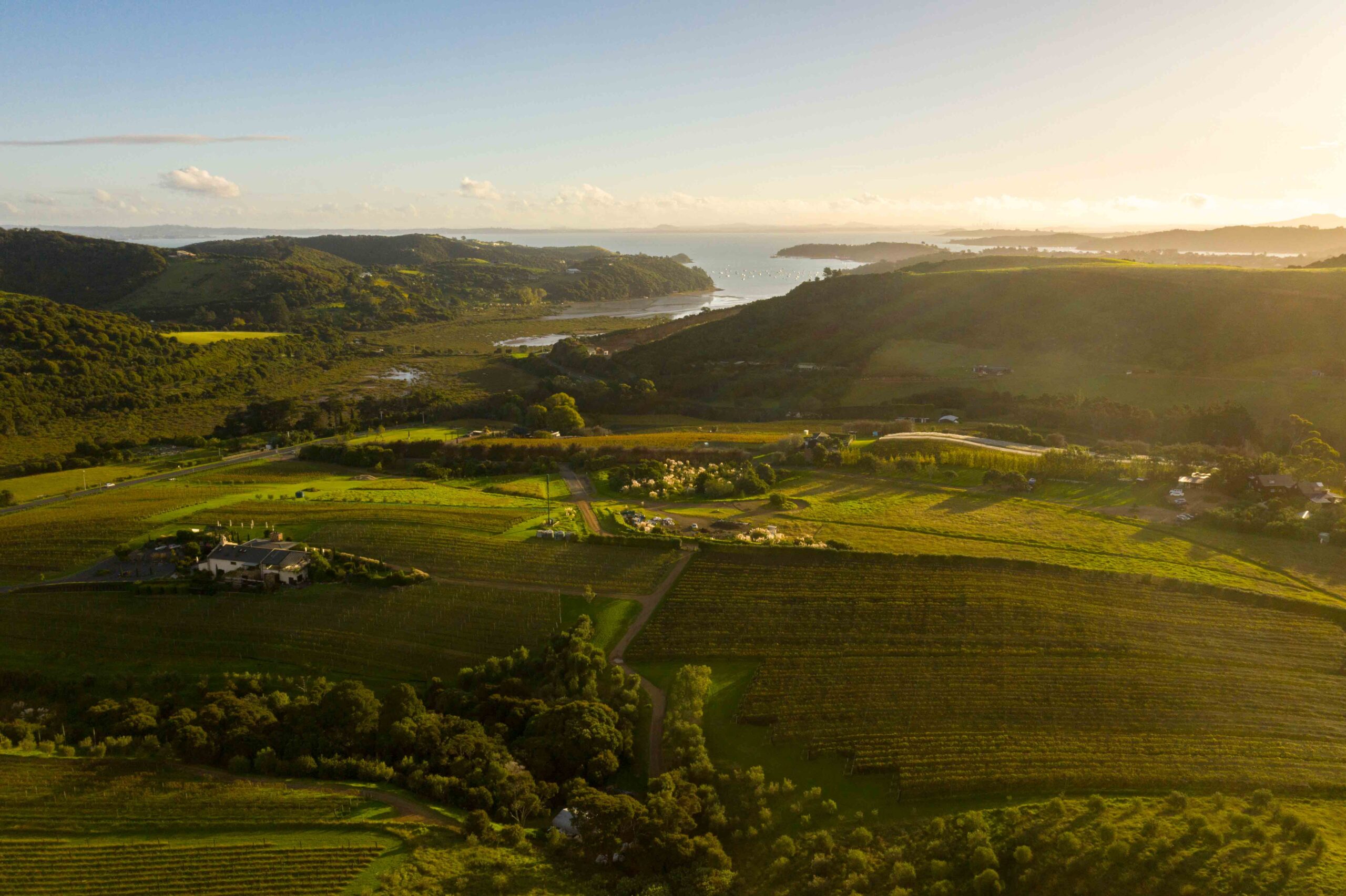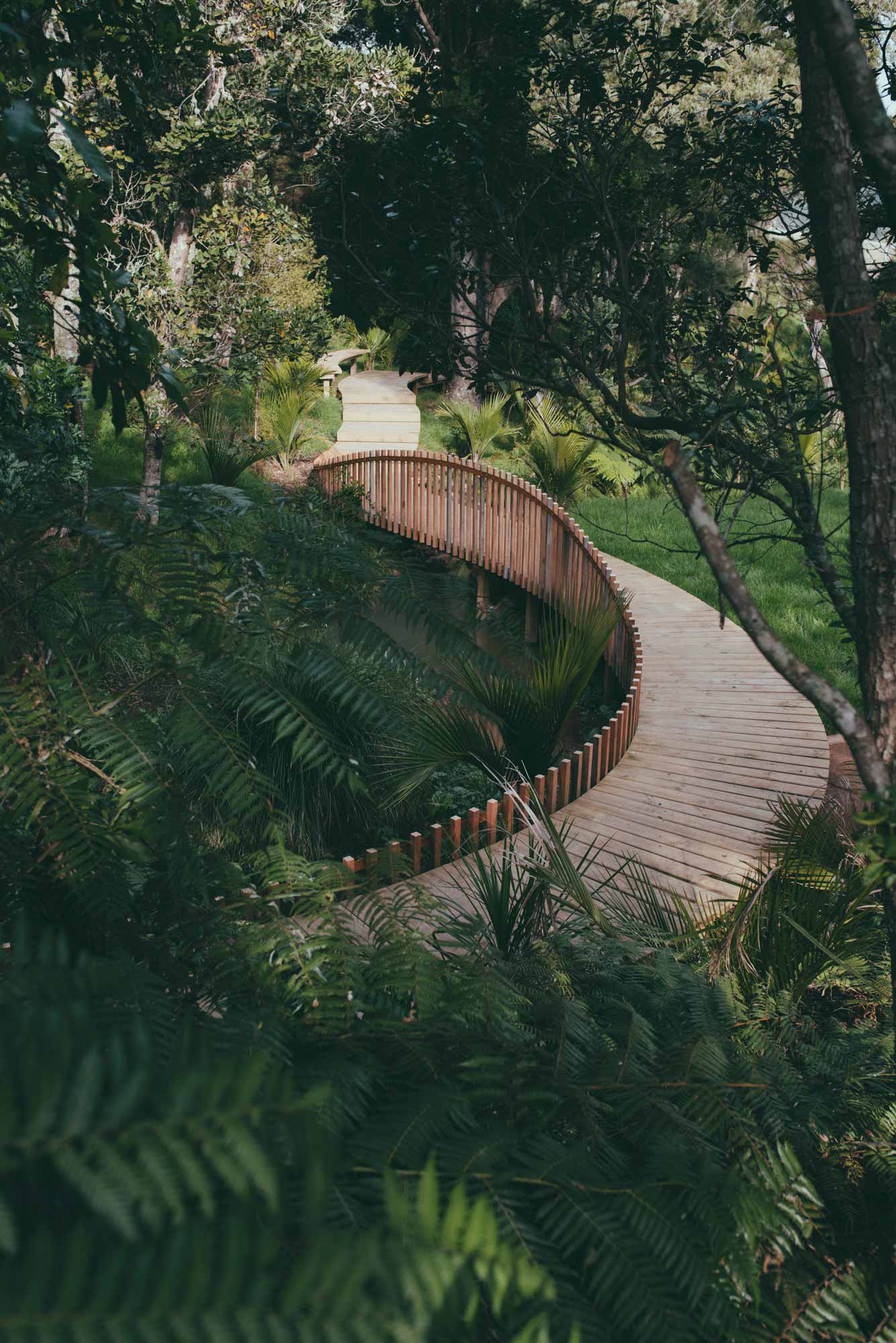 The wetlands lie at the heart of the Estate, and are nestled in a gully that intersects the valley. Restoration of the wetlands commenced in 2013, and a decade later this slice of Waiheke's ecology offers visitors a tranquil, natural environment to enjoy. Over 7,000 native plants have been reintroduced, bolstering the numbers of the ancient endemic native trees that survived previous development.  The wetlands offer a rich habitat for native fauna and flora. Some of New Zealand's endangered species are totally reliant on wetlands for their existence.
The boardwalk that traverses the area rewards guests with an easy stroll through a natural oasis that includes native trees such as kanuka, harakeke, tāwhiri karo, nīkau palms, miro, and kōwhai. This haven is home to many native birds, and supports other native species that help to build  biodiversity. The mercurial water channel helps to absorb water from the Estate, creating a natural filter.  The resident native birds provide delightful viewing for nature lovers. Discover tui, kererū, pūkeko, kāhu and the ever playful pīwakawaka. If you peer into the free running waters you can sometimes spot kōkopu (native trout), tuna kuwharuwharu (longfin eel) and even kōura (freshwater crayfish).
With sustainability at the heart of our philosophy, our hard working honey bees help us to manage a balance of biodiversity across the Estate, thus minimising the need for pesticide use.
These amazing creatures have 20 acres to forage for food including; native forests and wetlands, macadamia and olive groves, landscaped flower gardens surrounding the restaurant, and of course our juicy grapes. The bees spread their love and then bring deliciousness back to their hives. This is what gives our Tantalus Estate honey its unique flavour.  
Tantalus Estate Winemaker, Alex Perez, is our Beekeeper, and an avid proponent of everything bees.  Alex is in control of honey making from the hive to the jar.  He nurtures the bees and the hives throughout the year, and in summer extracts their flowing golden goodness. 
Alex describes the honey as a delicate food composed of monosaccharides, amino acids, enzymes, phenolics, vitamins and minerals. There is a whole lot of love for bees in every spoonful.
Our Estate Honey is available to purchase online and at the Cellar Door, and is a key ingredient used by the kitchen team.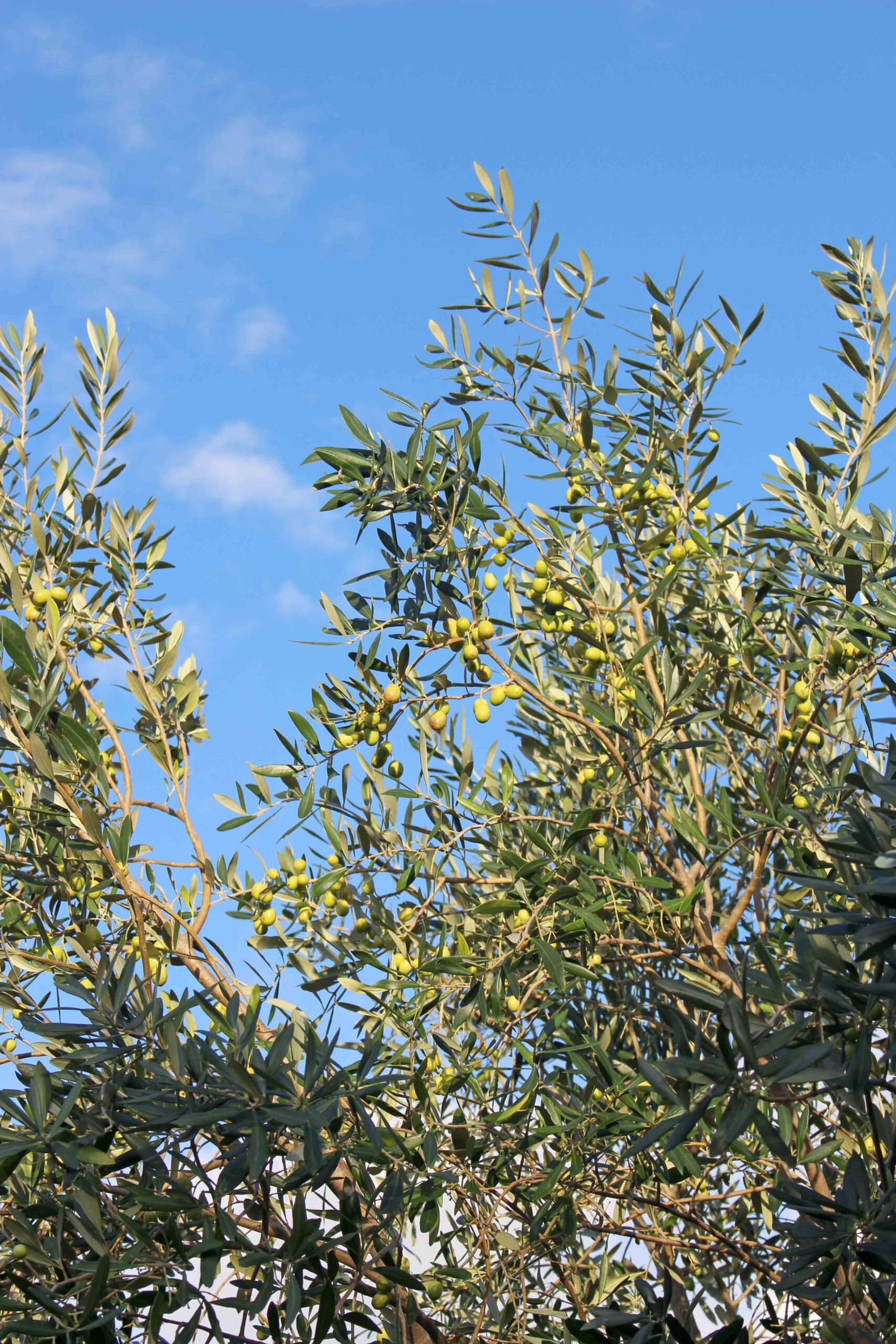 As you approach the entrance to Tantalus Estate, make sure you enjoy the view of olive trees that welcome our visitors.
We consider the olive branch as a warm embrace, a kind word, and a shared experience that has the power to create lasting memories of your time with us at Tantalus Estate.
The Estate has close to 300 mature trees that are thoughtfully planted across the valley. Along with the groves that hug the sweeping driveway, you will also discover them planted between the Tuscan inspired gardens that surround the restaurant, and to the north west near the heli landing pad. They are also planted at the top of the ridge that marks the boundary of the Estate.  Our winery and staff house are located on the other side of the wetlands, and these Mediterranean trees line the lane that connects the property. 
Like our grapes, olive trees thrive in Waiheke Island's maritime climate. In fact, the island is almost as famous for its olive oil, as it is for its wine. Warm sunny days, and free draining slopes, ensure excellent growing conditions.  We have over seven varieties, and 100 trees are in full production.  We hand harvest around half of the trees per year.  Careful pruning, and a measured approach to rotational cropping, results in exceptional olives with high oil yield. Not only do we process the olives for their golden oil, but some of the varieties are well suited to brine curing, and this adds to the basket of produce foraged from the Estate by our kitchen team.  Tantalus Estate Olive Oil is used throughout our Menu, and is particularly delicious with our homemade Sourdough that incorporates Alibi Brewing craft beers. You can purchase olive oil by the bottle from our Cellar Door.
Varieties:
Ascolano: Origin Tuscany. Larger fruit with a delicate, mild taste.
Picual: Origin Spain. Full bodied with a light peppery taste.
Frantoio: Origin Tuscany. Fruity, bitter and spicy taste.
Kalamata: Origin Greece. Soft, meaty and rich in taste.
Manzanino: Origin Spain. Soft, green and nutty almonds.
Chimali:  Origin Tunisia. Rich, nutty, fruity sweetness.
Olives J5: Origin New Zealand. Sweet and buttery.
Our Reserve Selection is thoughtfully chosen by our winemaking team, and is designed to match the season and showcases the elegance and power of our Reserve range. Choose between 6 or 12 bottles per shipment, delivered every 6 months. Two shipments per year.
WINEMAKER'S CELLAR SELECTION
Selected by Winemaker Alex Perez, the Cellar subscription is curated to help enhance your personal wine cellar. Each selection may include limited release, back vintage, and magnums from our Reserve range. Choose between 6 or 12 bottles per shipment, delivered every four months. Three shipments per year.